Ingredients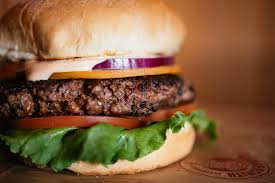 1 lb ground beef
8 mushrooms, chopped into small pieces
1/2 onion, diced
2 cloves garlic, minced
olive oil
1 T Worcestershire sauce
1 t chipotle chili powder (optional)
1 egg, lightly beaten
Directions
Sauté the mushrooms and garlic together in 1 T olive oil. Let the mushrooms cool.
Mix mushroom mixture and all other ingredients in a bowl. Form into 4 patties. Grill to desired doneness. If you know the source of your ground beef you can safely cook rare burgers.
The addition of the vegetables and Worcestershire sauce helps keep grass fed beef moist.  If using grass fed, remember to lower the heat and check for doneness sooner than if using grain-fed.