Ingredients
One yellow squash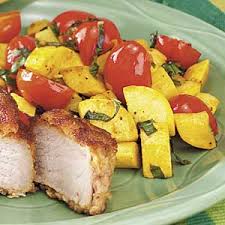 1 zucchini
2 tomatoes
1/2 onion OR 1 shallot
2 cloves garlic
oregano, salt, and pepper to taste
6 leaves fresh basil
Directions
Quarter the squash and zucchini lengthwise, then cut into bite-sized chunks.
Cut tomatoes into bite sized chunks.
Finely dice onion, or cut shallot in half lengthwise and then into thin slices crosswise.
Mince garlic.
Chiffonade the basil (put the leaves in a pile, roll the pile lengthwise, then slice crosswise into thin strips). OR just snip the basil into small pieces with scissors.
Saute onion in 2 tbsp olive oil over medium heat until translucent. Add garlic, oregano, and salt and pepper, saute for 2 minutes.
Add squashes and tomatoes, stir, saute stirring once in awhile, until squash tests done. Sprinkle with the fresh basil, and stir to combine. Don't overcook or squash will be mushy.
You can sprinkle some shredded cheese on top for added flavor. Serves 2-4 depending on size of squash.