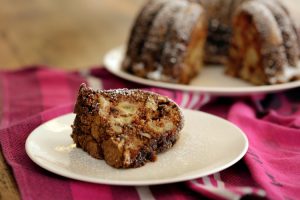 4 generous cups raw apples, peeled and cut coarse (about 5 largeGranny Smith apples)
2 c granulated white sugar
½ c vegetable oil such as Crisco
2 large eggs
2 t ground cinnamon
2 t baking soda
2 c all-purpose flour
1 c chopped toasted walnuts
Confectioner's sugar for decorating
Cooking spray
Pan: 10-cup bundt or tube pan
Heat the oven to 350 degrees.
Peel and chop apples and set aside.
Beat together sugar and oil and add eggs one at a time until creamy.
Whisk together flour, cinnamon and soda. Add dry mixture to sugar, oil and eggs by thirds.
Remove from stand mixer and fold in chopped apples. Let sit for 5 minutes, stir well and add walnuts. Mix well.
Pour batter into prepared pan – I prefer Baker's Joy or another brand of spray coating with flour – and place on a sheet pan to bake.
Bake 60-65 minutes or until a toothpick inserted in the center comes out clean. Let cool in the pan 10 minutes, then invert on a cake cooling rack. Dust top with confectioner's sugar if desired.