Surowiec Farm is known as a scenic destination during the fall for apple picking.  We have continued to grow and diversify by offering our own seasonal fruits and vegetables in a quaint farmstand set against the backdrop of NH's mountain ranges.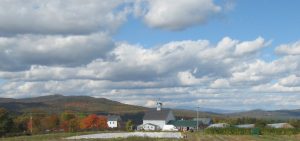 In the summer the farm stand is filled with our own fresh vegetables, such as tomatoes, cucumber, beans, squash, and melons, which are harvested daily.  The selection of vegetables varies with the seasons, so come visit often.  Crisp, cool salads, sweet corn, and juicy melons are perfect for those hot summer days and family barbecues.  While you shop, consider taking home a fresh picked quart of strawberries for shortcake or just to munch on.  We guarantee that you cannot eat just one.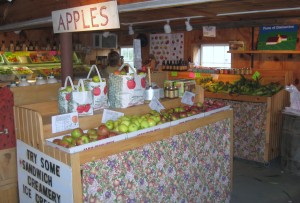 The farm stand is also filled with homemade jams and jellies, mustard, relish, and pickles.  Pick up a bottle of salad dressing to accompany the fresh produce.  We also offer a nice selection of locally made products.  The Sandwich Creamery supplies farm fresh ice cream and cheese.  Try some delicious smoke cheese and meat from the Fox County Smokehouse for a easy summer meal.  We have selection of maple products from Just Maple, which make great gifts for any occasion.  Popular local items, such as goat milk soap from Shaker Woods Farm and handcrafted natural soda from Meetinghouse Soda, are available thoughout the season.
In the fall, chrysanthemums, decorative gourds, and pumpkins of all sizes and shapes flood the farmstand with color. Take home a bag of crisp, juicy apples, some fresh pressed cider, and a jar of local honey.