Ingredients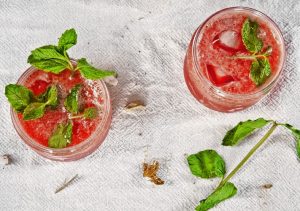 white sugar for rimming glasses
½ bunch mint
1 cup sugar (I tend to use less)
2 cups club soda
2 large limes, quartered
7 strawberries, quartered
1 cup white rum
ice cubes for serving
Rub the glass rims with one of the lime quarters, then dip them in sugar. Set aside.
Squeeze lime quarters into a wide-mouthed pitcher, and toss in the juiced limes, rind and all. Add the mint leaves, strawberries and 1 cup sugar.
Using a muddler, or the back of a sturdy wooden spoon, muddle the mixture, smashing the mint leaves and strawberries together with the sugar.
Stir in the rum, and then the club soda, making sure that all the sugar is dissolved. Serve over ice in sugar-rimmed glasses.